One of WordPress' greatest strengths is the 56,000+ plugins that are available to help you add enhanced SEO, email marketing, e-commerce, security, and other features to your website.
The downside: it can be difficult to sift through all the options and pick the best WordPress plugins for your website.
So, we put together a hand-picked list of the best WordPress plugins for you.
These plugins really stand out because they are:
User friendly
Built and backed by strong developers
Updated and improved frequently
They also:
Have served our web design clients well over the years
Provide helpful support along with clear docs & tutorials
Have active and helpful online user communities
Hopefully this list will point you in the right direction and save you some time and stress.
Some of the links below are affiliate links. Rest assured that we have dedicated hundreds of hours of painstaking research and testing for every plugin recommended here, and we use these in our day-to-day work designing, managing, and optimizing websites.
Best WordPress Page Builder Plugin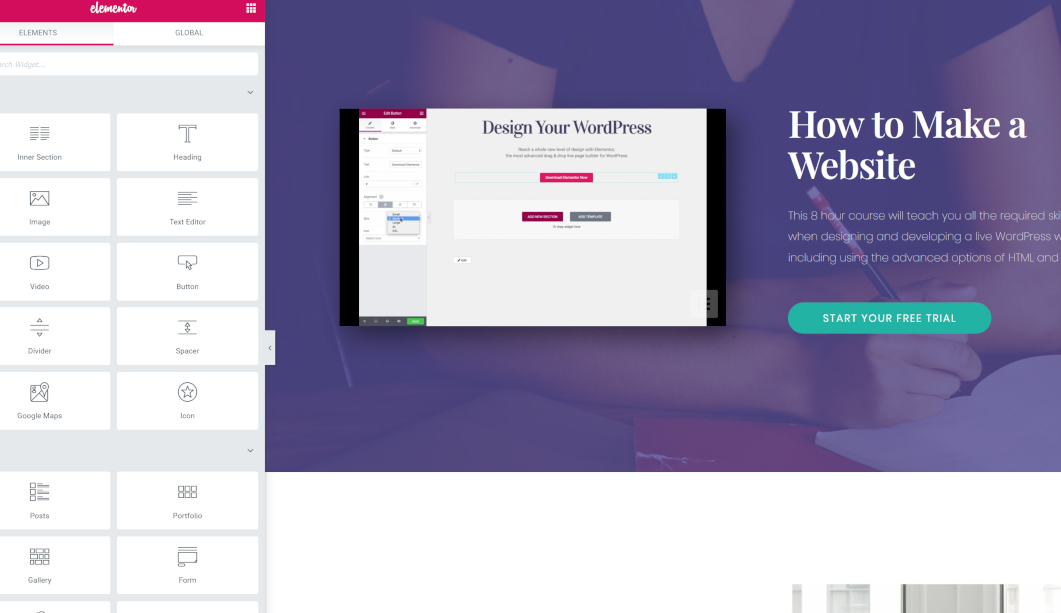 If you want to customize the look of your website without any coding, then you will want to install a WordPress page builder plugin.
For that, Elementor is the standout choice.
Drag-and-drop visual page editor
Easily add images, sliders, animations, & more to your pages
Make your website mobile responsive
Integrate with popular tools like MailChimp for signup forms
Theme editor: edit any part of your website (e.g. navigation menus, footer, product templates), show dynamic content, set custom form actions, and more
Robust 3rd party extensions (two of our favorites are Ultimate Add-Ons & PowerPack Elements) add even more capabilities, such as scrolling image widgets, more display conditions, and copy-pasting content across sites
There are other page builders out there (Beaver Builder, WP Bakery, etc.) and some themes even include their own built-in page editors (Divi, Flatsome, etc.).
But Elementor is lightyears ahead in functionality and ease of use.
Best WordPress Caching Plugin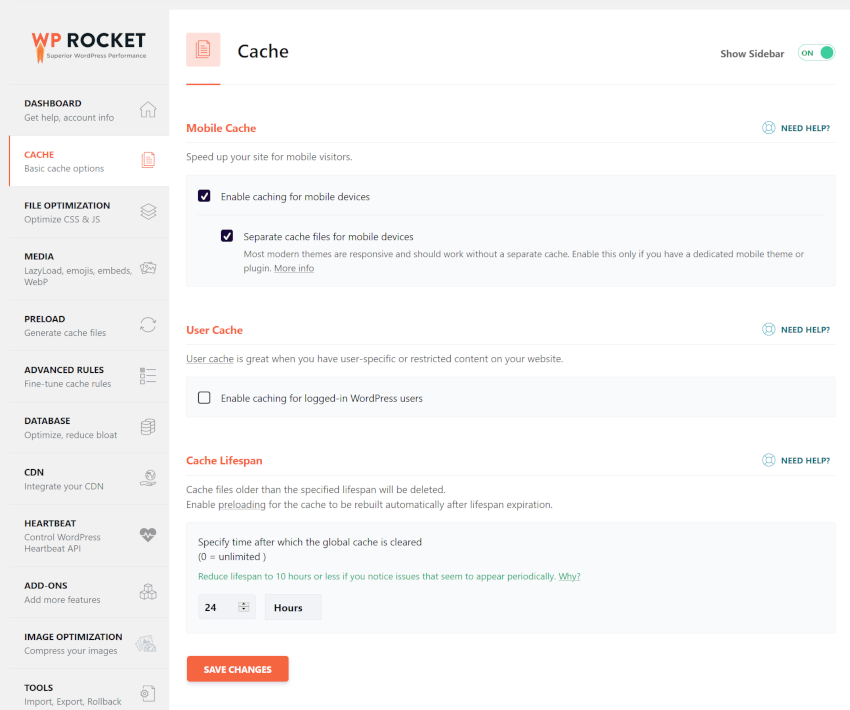 WP Rocket is really more than just a caching plugin.
It is an all-in-one performance optimization tool that gives you everything you need to speed up your website.
And that is critical nowadays from both an SEO and user experience (UX) perspective.
Some of the handy features of the WP Rocket plugin include:
Page caching & browser caching
File minification, concatenation, and script loading
Optimize loading of Google Fonts
Lazy loading support for images
Database cleanup (which can be scheduled to repeat automatically)
Can rewrite URLs for you if you're using a CDN
Other: cache preloading, DNS prefetch, granular control of caching rules, and integration with Imagify for image compression
We also love that WP Rocket's setup process is fairly easy (just a few clicks and you're ready to go) and essentially set-it-and-forget it.
That sort of peace of mind is worth its weight in gold.
Best WordPress Backup Plugin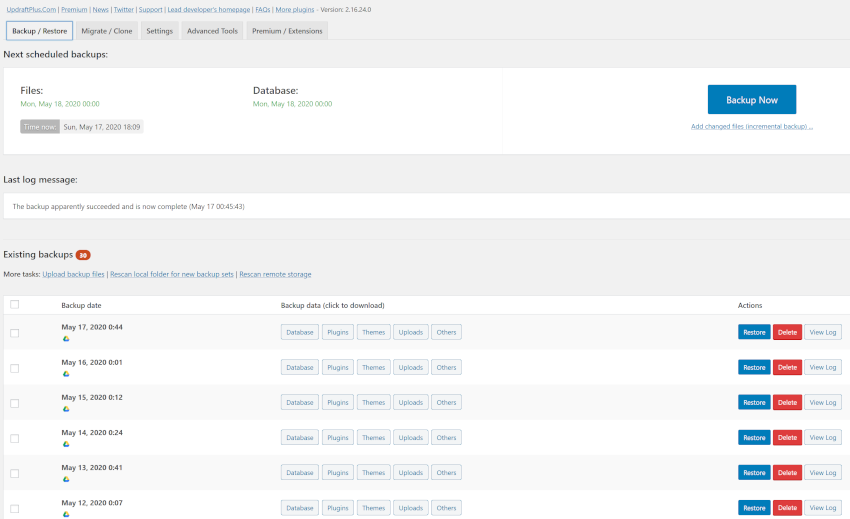 One of the most important steps you can take to secure your website is to keep up-to-date backups.
You never know when you'll suffer from a web hosting failure or security breach.
And in those instances, it is critical to have complete backup on hand so you can restore your site to an earlier state (i.e. before a crash or virus infection).
Why choose UpdraftPlus?
Simple to configure and use
Granular control over what parts of your website to backup
Quickly restore your site from a backup in just a few clicks.
Schedule backups on a regular cadence (e.g. weekly)
Automatically send backups to remote storage (e.g. Google Drive)
We strongly recommend that you upgrade to the paid plugin, as having the ability to backup extra files and databases is almost essential.
And if you run an e-commerce website, you'll want the ability to encrypt database backups that contain sensitive customer information
We've tried multiple WordPress backup plugins over the years, and UpdraftPlus is the only one that consistently "just works".
We were involved in a security breach at our web host in 2018, and UpdraftPlus was critical to getting our site back up and running quickly on another web host.
So, it gets a golden seal of approval and our highest recommendation.
Best WordPress SEO Plugin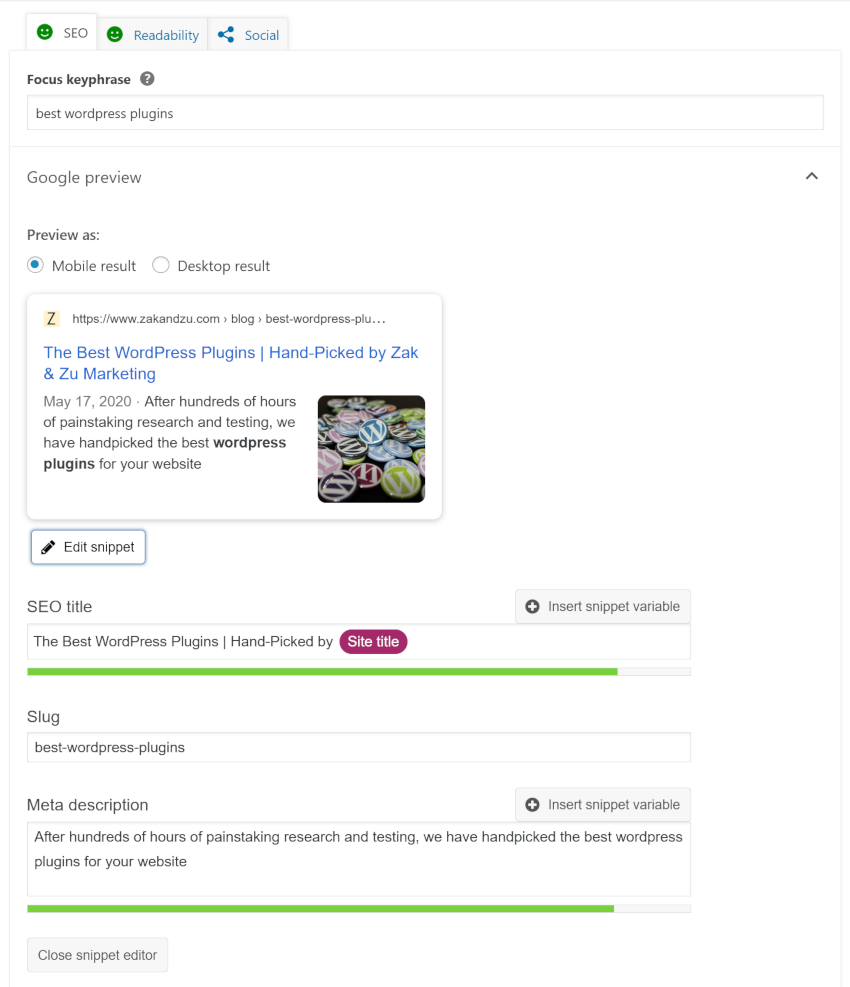 Yoast is the best free SEO plugin for WordPress.
It includes most of the core functionality needed to help your website appear in search engines.
Insert SEO metadata into your web pages
Set canonical URLs and meta robots tags
Create an XML sitemap
Verify your site with webmaster tools (e.g. Google Search Console)
Control indexing of media, archives, templates, & more
Add open graph metadata for social media
The free version of Yoast SEO contains pretty much everything you need. Simply pair it with the free Redirection plugin to manage 301 redirects.
The primary reason you might consider upgrading to the paid version is If you run an e-commerce or news website (Yoast has niche plugins with critical features for those specific use cases).
One area where Yoast SEO does fall a bit short is in Schema.org structured data markup. You will want to supplement Yoast with a tool like Schema Pro if that is a concern for you.
Best WordPress Security Plugin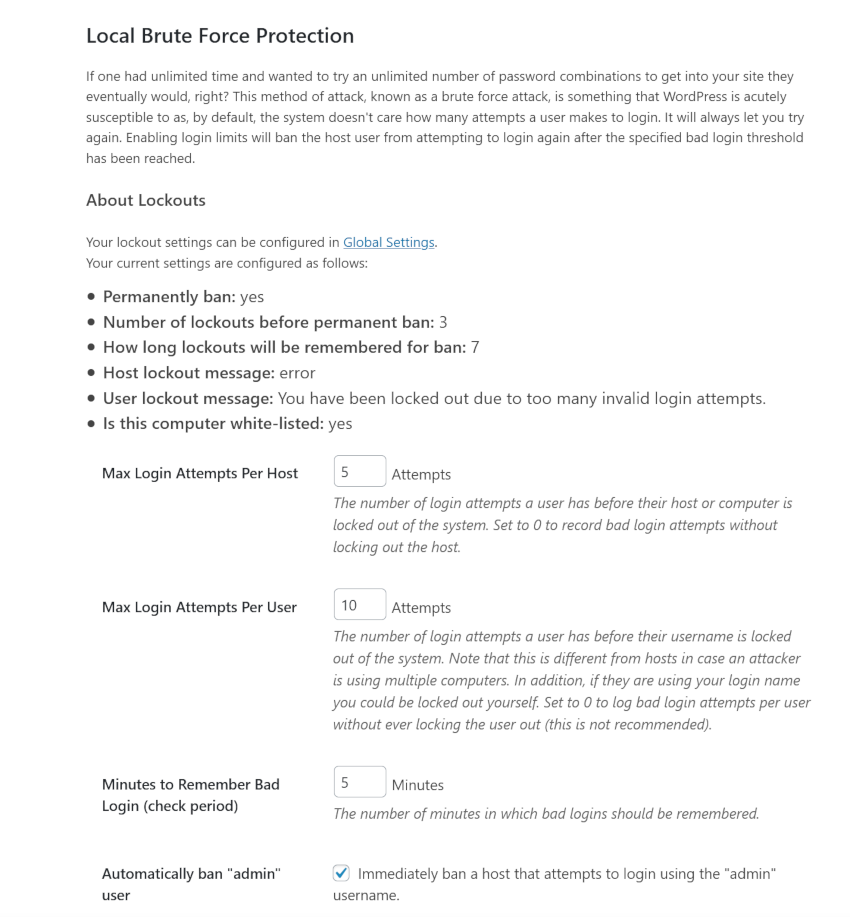 iThemes Security (formerly known as Better WP Security) is a comprehensive website security plugin that gives you a whole lot of security coverage.
Here are some of the core features that we appreciate:
Protect against brute force login attempts
Identify potential threats via excessive 404 errors
Enforce strong passwords for admin users
Multi-factor authentication (compatible with apps like Authy)
Change the URL of your admin login page
Log user actions (logins, edits, etc.)
Detect when someone adds or removes a file from your site
Website and server tweaks (e.g. prevent directory browsing)
Automated website scans
Real-time IP blacklist based on network of iThemes sites
Central security dashboard and notifications system
The dev team at iThemes is fairly active, adding new features to the plugin on a consistent basis.
However, one area where iThemes Security may fall short for some businesses is firewalls. There is no application firewall built into iThemes, nor does it give you the ability to modify your server firewall rules.
Also, if you are looking to implement more granular access permissions (e.g. role-based access) then you will want to bolster iThemes with another plugin.
Best WordPress E-Commerce Plugins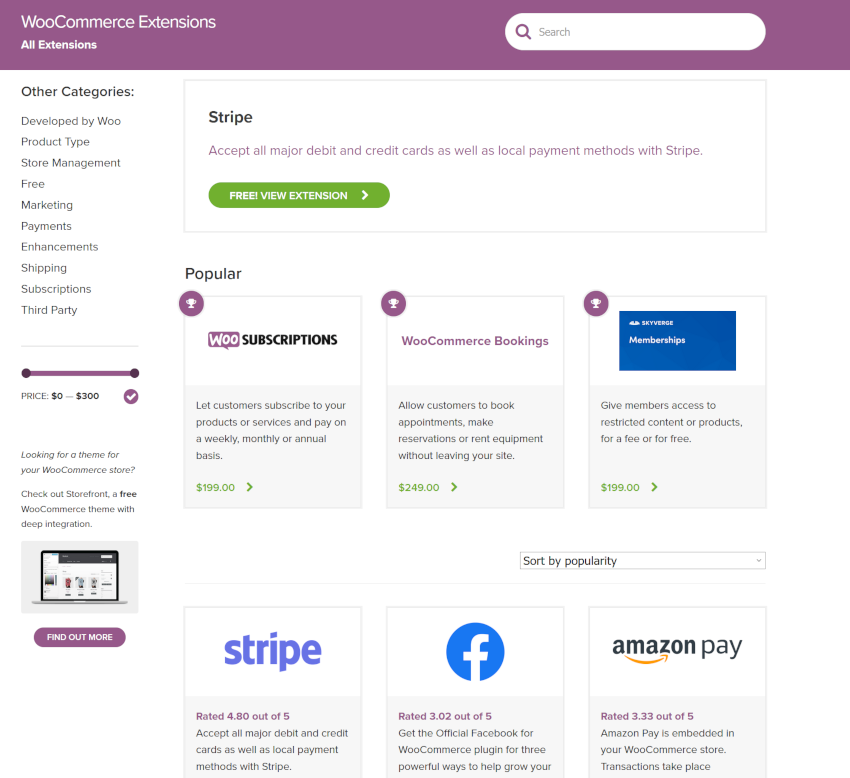 WooCommerce is the #1 choice for creating an e-commerce store with WordPress, and it has a rich ecosystem of extensions.
TaxJar: Ever since the US Supreme Court ruling in South Dakota v. Wayfair, Inc. (2018), e-commerce stores are required to pay sales tax in states where they do business even if they don't have a physical presence there (owing to the concept of "Economic Nexus"). It gets even more complicated when you consider origin vs destination states, differences in rates between counties, and states that require collection of sales tax on shipping charges. Out of the box, WooCommerce doesn't handle taxes or all of this complexity very well. And that's where the TaxJar WordPress plugin comes in.
WooCommerce lists around 400 extensions in its online directory. But don't start adding every extension under the sun to your website for the heck of it. These should be carefully selected according to the specific needs of your store and customers (i.e. Do you ship physical products? If so, what carrier(s) do you use? Do your customers need the ability to have their order shipped to multiple addresses?) Reach out to us if you'd like to discuss your specific needs in detail.
Closing Thoughts
Those are some of the best WordPress plugins that we use and recommended to our clients. We plan to update this page with new information frequently. If there are other WordPress plugin categories that you would like us to write about – or you'd like to see a similar list for Shopify or some other platform – let us know in the comments section down below. And always feel free to contact us if you have a WordPress project that you'd like help with.